First Session: What to Expect
What happens in a session?
Before your first appointment, I e-mail you the personal health history forms. I care about your medical history; this information is critical for my assessment. It assists me in identifying the root cause(s) of your problem(s), so I need it to be thoughtfully completed. Bring the completed forms to your first session.
Everyone responds to life's dings (from accumulated small injuries you may not even remember to injuries you clearly recall) differently. How your body reacts is unique. I take the time to assess your history and symptoms so I can determine the root underlying causes(s) and use the many techniques I have learned and practiced over the past 19 years to treat you effectively so your body responds the way you want.
After sitting comfortably in my private, quiet office while we review your medical history and discuss your goals for treatment, you will undress in private to your comfort level.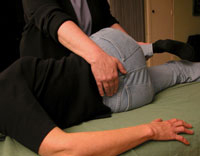 Note: If you are uncomfortable undressing, you may receive a complete manual therapy session in loose-fitting clothes, i.e., sweatpants, sweatshirt or other loose clothes.
You will always be draped with a sheet during the session to assure modesty throughout.
The table is padded and designed for comfort and stability. An adjustable face rest and pillows are used to provide additional support during the session.
The bulk of the session is spent in hands-on treatment.
For more information about the treatment techniques, click here.
The session often ends with homework describing self-care movements you can do to continue the hands-on treatment.
What should I do during a session?
Be comfortable. If I need you to adjust your position I will either move you (if it's your neck or arm, for instance) or ask you for what is needed.
Give feedback. The "no pain, no gain" motto isn't true for my approach to bodyworkk. Please give me frequent feedback. If there is any discomfort I can adjust the technique.